Förderpreis des Hannover Center of Finance e.V.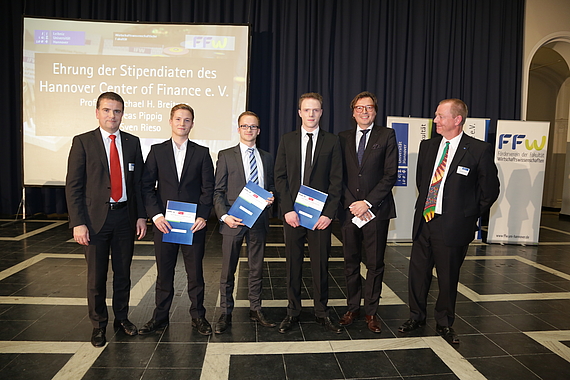 Das Hannover Center of Finance e.V. (HCF e. V.) ist eine gemeinsame Initiative von fünf Instituten der Wirtschaftswissenschaftlichen Fakultät und engagierten Unternehmen der Finanzwirtschaft zur Stärkung des Finanzplatzes Hannover.
Seit 2009 ehrt das Kuratorium des HCF e. V. herausragende Abschlussarbeiten auf dem Gebiet der Finanzmarktforschung. "Wir möchten jungen Talenten mit exzellenter Ausbildung einen zusätzlichen Anreiz bieten, mit ihren Ideen die Finanzbranche zu bereichern und deren Herausforderungen zu begegnen", so Jürgen Machalett, Generalbevollmächtigter Firmenkunden der Nord/LB.
Der Verein fördert außerdem seit 2013 überdurchschnittlich gute Master-Studierende der Major "Finance", "Banking and Insurance" oder "Financial Economics" mit einem Stipendium.
Die Förderpreise und Stipendien werden von den Mitgliedsunternehmen des HCF e. V. gestiftet.